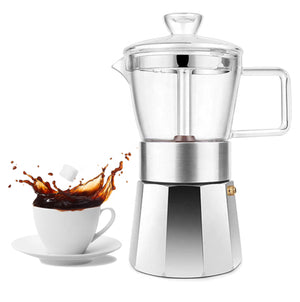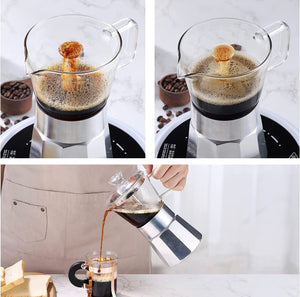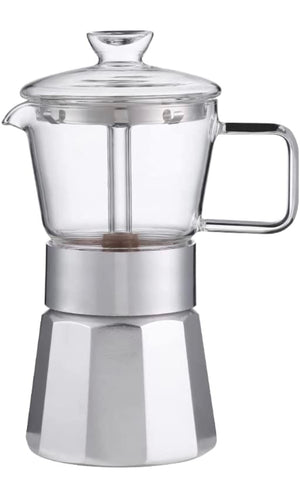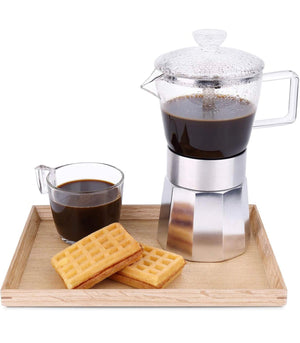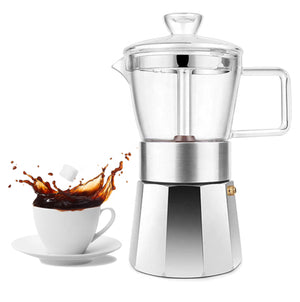 GRECA CRYSTAL CLEAR STOVETOP COFFEE ESPRESSO MAKER
The crystal clear glass made of high borosilicate glass allows you to check the espresso coffee situation that you could control the espresso coffee better.

Health and safety are our top concern, The heat-resistant handle is made of BPA free&Heat-resistant plastic, which provides full protection for your hands. The Italian Safety Valve in this stove top espresso coffee maker keeps you safe too.

Premium food-grade aluminum is non-toxic and rust-proof. The retro-shaped bottom heats up faster so that you can enjoy fresh, hot coffee at any time.

Grip the heat-resistant glass with confidence. Unlike traditional, cheap plastic handles, the glass design is resistant to high temperatures and stays cool.

THE WATER LINE SHOULD NOT EXCEED THE SAFETY VALVE.Please stop heating the pot within one minute after the coffee is cooked to prevent burns to the bottom of the Moka coffee pot! If you receive any DEFECTIVE/UNSATISFIED Product,please contact us, we will try our best to help you and give you the best solution.